As we age, our skin undergoes several changes, including reduced collagen production, decreased elasticity, and the appearance of fine lines and wrinkles. However, there are various products available in the market that can help combat these signs of aging and promote youthful-looking skin.
From anti-aging creams and serums to masks and exfoliants, there is a wide range of skincare products specifically formulated to target skin aging. With the right products, you can restore your skin's radiance, hydration, and firmness, and minimize the visible effects of aging.
What Is Plexaderm?
Plexaderm is a skincare product that has gained popularity for its ability to combat signs of aging, such as wrinkles and eye bags. As we age, our skin loses its elasticity and firmness, resulting in the appearance of fine lines and wrinkles. However, with the use of anti-aging products like Plexaderm, you can reverse these signs of aging and maintain a youthful look.
This rapid reduction cream is especially effective in reducing eye bags and dark circles, which are often visible signs of aging. Moreover, Plexaderm products are formulated to be suitable for sensitive skin, ensuring that users can enjoy the benefits of youthful-looking skin without experiencing any adverse reactions.
Jonathan Greenhut is the CEO of True Earth Health Products, the manufacturer of Plexaderm. The brand's most popular product is the Plexaderm Rapid Reduction Serum, which has received positive reviews from users. To ensure you purchase authentic Plexaderm products, it's advisable to buy them from verified distributors such as Sheer Science, which stocks the products on their official website.
Plexaderm Usage & Dosage
To use Plexaderm, it's important to follow the proper steps to ensure the best results and minimize any potential side effects. Start by cleaning your face of any dirt or facial oils, making sure it's completely dry before applying the product.
Using upward and outward motions, use your fingers to apply the cream to any wrinkles, fine lines, or eye bags you want to target. Be careful not to get any cream inside your eyes, as this can cause irritation. If you do get cream in your eyes, rinse them gently with cold water. Be sure to apply the cream evenly, as any excess can cause an ashy appearance on your skin.
If this happens, simply use a damp cloth to gently remove any excess cream. Once you've applied the cream, wait fifteen minutes for it to take effect, making sure to keep your facial muscles still during this time. By following these steps, you can enjoy the full benefits of Plexaderm and achieve a more youthful, radiant appearance.
Product Feature & Coupons
Looking for a skincare product that can help you combat signs of aging such as wrinkles and under-eye bags? Look no further than Plexaderm, our featured product of the month. This anti-aging cream is formulated to help you achieve a youthful, radiant appearance and is suitable for sensitive skin.
And as a bonus, the manufacturer offering a coupon that gives you even more savings on your purchase of Plexaderm. Don't miss out on this incredible deal to try out one of the most effective skincare products on the market. Order now and experience the difference that Plexaderm can make in your skincare routine.
MEGA-DISCOUNT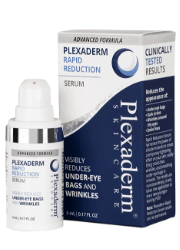 Alleviate aging signs
Improves complexion
Natural ingredients
Provides complementing products
Rating: ⭐⭐⭐⭐⭐
👉 CLICK HERE for the BEST OFFER! 👈
This offer is only available from us and is only valid until6. December 2023
Plexaderm Customer Review
Are you considering trying out Plexaderm for your skincare needs but want to hear from real users first? Look no further! We've gathered reviews and feedback from individuals who have tried Plexaderm to give you a better idea of its effectiveness. From reducing fine lines and wrinkles to eliminating eye bags, Plexaderm has been praised for its ability to help users achieve a more youthful appearance. But what do real users have to say about their experiences?
I recently discovered the secret to achieving a more youthful look, and it's all thanks to Plexaderm. Even though I'm in my fifties and have lost a significant amount of weight, my skin looks better than ever. My wrinkles are barely visible, and my skin has a fine texture. I was introduced to Plexaderm by a friend who takes their skincare routine seriously, and I'm so glad I gave it a try. While I haven't experienced the exact results I was hoping for, I have noticed some significant changes, and all of my friends are asking me for my secret!

Marco Gershwin
At first, I was skeptical about trying Plexaderm products, but I decided to give it a chance anyway. I have struggled with eye bags and dark circles due to my genetics and age, and nothing seemed to work. However, I was pleasantly surprised to see the difference after using Plexaderm. My eye bags and dark circles have significantly reduced, and I'm now able to look in the mirror and love the reflection I see. Thank you, Plexaderm, for helping me achieve my desired look.
9

Mary-Sue Edward
A few years ago, I made the mistake of not reading reviews before trying a new skincare product, and it did not agree with my skin. So when I heard about Plexaderm, I was initially skeptical and thought it was just another overhyped product. However, I eventually decided to give it a chance and was pleasantly surprised by the results. After using Plexaderm, people have mistaken my daughter for my sister, and I have never looked this young. I regret not trying it sooner.
7
Pros
Clear disclaimer provided by the brand
Accessible online reviews available for research
Fast and effective results reported by many users
Cons
Are There An Effective Alternative?
While Plexaderm has proven to be a popular solution for addressing fine lines and wrinkles, there are other skincare products in the market that claim to provide similar benefits. Some of these products include Brandt Skincare, Strivectin and Neutrogena. In the following table you will also find a small product comparison.
Additionally, there are also various medical procedures such as Botox injections and dermal fillers that are used to reduce the appearance of wrinkles and fine lines. Ultimately, the choice of which alternative to use depends on an individual's preferences, skin type, and budget. It is always advisable to seek advice from a dermatologist or a skincare professional before trying any new products or treatments.
​
 
 
 

Test Winner

 
Product

Brandt Skincare

Strivectin
Plexaderm
Effects

✓

Anti-Aging




✓ 

Reduces wrinkles




✓

Third-party tested

✓

Reduces wrinkles


✓

Non-greasy
✓

Science proofed 

✓

Anti-Aging


✓

Improves skin
✓ Reduces wrinkles
Side Effects
✓ NO side effects
✓ NO side effects
✓ NO side effects
Content
30 ml
30 ml
5 ml
Dosage
Depends on skin
Depends on skin
Depends on skin
Enough for
Depends on usage
Depends on usage
Depends on usage
Price
42,00 Dollar
60,00 Dollar
59,95 Dollar

Rating
⭐⭐⭐⭐
4/5
⭐⭐⭐⭐
4/5
⭐⭐⭐⭐⭐
5/5
 
Benefits Of Plexaderm
Plexaderm skincare products offer several benefits for those looking to reduce visible signs of aging. The ingredients used in Plexaderm products are scientifically backed and contain minerals like magnesium silicate and sodium silicate, which work together with cellulose gum to reduce wrinkles and thicken the skin. Additionally, these elements contain water-binding properties that ensure the skin retains moisture, reducing wrinkles.
Plexaderm is also effective at reducing under-eye bags and dark circles, as it contains moisturizing ingredients. With its combination of ingredients, Plexaderm can help prevent skin cracks, moisturize the skin, and minimize wrinkles and puffy eyes. The product also has anti-aging properties that smooth and tighten loose skin, helping to minimize visible signs of skin aging.
Plexaderm Ingredients
Plexaderm Skincare is made up of several ingredients, including magnesium silicate, sodium silicate, ethylhexylglycerin, phenoxyethanol, Red 40 (Cl 16035), Yellow 5 (Cl 19140), acetyl hexapeptide-8, cellulose gum, and water. Sodium silicate is commonly used in the production of soaps and detergents to balance pH levels. Magnesium silicate, which is purified clay, helps to absorb excess oil and thicken the product.
Acetyl hexapeptide-8 has water-binding properties, making it useful for skincare products. Ethylhexylglycerin serves as a preservative and conditioning agent, while phenoxyethanol is a preservative that can be derived from green tea or created in a lab. The other ingredients, such as cellulose gum and dyes, help create a film on the skin.
Possible Side Effects
Many skincare products can potentially cause skin irritation, especially for those with sensitive skin. It is essential to conduct a patch test before using any new skincare product. A common side effect reported by some Plexaderm users is that it leaves a white residue, which can be annoying despite being harmless. This residue may discourage some users from continuing to use the product.
FAQ
How does Plexaderm work?

Plexaderm works by using key ingredients like magnesium silicate and sodium silicate to reduce wrinkles, puffiness, and dark circles. It also contains anti-aging properties to smooth and tighten loose skin.
What are the main ingredients in Plexaderm?

The main ingredients in Plexaderm include magnesium silicate, sodium silicate, acetyl hexapeptide-8, cellulose gum, and water.
Are there any potential side effects of using Plexaderm?

Some users have reported a white residue left on their skin after applying Plexaderm. It is recommended to conduct a patch test before using any skincare product to avoid potential skin irritation.
What are the benefits of using Plexaderm?

Some benefits of using Plexaderm include reducing the visible signs of aging skin, minimizing wrinkles and puffy eyes, and moisturizing the skin.
Does Plexaderm work for all skin types?

The rate of skin aging differs since this is genetically influenced; therefore, knowing your skin type is vital in choosing the right Plexaderm product. Plexaderm products have different formulas to address different skin types and concerns, so it is recommended to choose a product based on your specific needs.
Conclusion
In conclusion, Plexaderm is a great choice for anyone looking to reduce the visible signs of aging skin. The product contains scientifically-backed ingredients, including magnesium silicate and sodium silicate, that work together to minimize wrinkles and puffiness, moisturize the skin, and tighten loose skin.
However, as with any skincare product, it is essential to conduct a patch test before use, and some users have reported a white residue after application. To ensure you are buying the genuine product, purchase from the official website or verified distributors. The brand also offers a 30-day money-back guarantee, which is an added bonus.