Weight loss supplements have become increasingly popular as individuals strive to achieve their fitness goals. Among the many options available, Juice Plus has emerged as a prominent contender. Juice Plus offers a unique approach to weight loss, providing individuals with a convenient and effective way to supplement their diet.
With its array of fruit and vegetable concentrates, Juice Plus aims to bridge the gap between the recommended daily intake of fruits and vegetables and what people actually consume. In this article, we will explore the benefits and features of Juice Plus as a weight loss supplement, shedding light on how it can contribute to a healthier lifestyle.
What Is Juice Plus?
uice Plus, a renowned dietary supplement, is crafted from a variety of plants to address nutritional deficiencies. Available in convenient forms like powdered capsules or gummy chewables, Juice Plus aims to bridge the gap in your diet, particularly when it comes to the adequate consumption of fruits and vegetables. Established in 1970 by Chairman Jay Martin, Juice Plus operates from its headquarters in Collierville, Tennessee.
Their flagship products include fruit and vegetable powders derived from a diverse range of whole fruits and potent vegetables, making them highly sought after. Fruits and vegetables are rich sources of vital nutrients that contribute to overall well-being. This food group offers crucial elements like antioxidants, fiber, and rice protein that are essential for the body.
With over 30 different fruits and vegetables incorporated into their capsules, Juice Plus provides three distinct blends: fruit, vegetable, and berry. The company claims that these products are designed to address nutritional gaps effectively. In this comprehensive Juice Plus review, we will delve into whether this supplement lives up to its promises and whether it is a worthwhile addition to your wellness routine.
Juice Plus Product Feature & Coupon
Juice Plus offers feature products like powdered capsules and chewable gummies packed with the nutritional goodness of fruits and vegetables. These convenient supplements ensure you get essential nutrients even if you struggle with consuming enough fresh produce. Juice Plus is committed to quality and transparency, sourcing ingredients from a wide variety of whole fruits and potent vegetables. Take advantage of their current coupon to support your well-being.
MEGA-DISCOUNT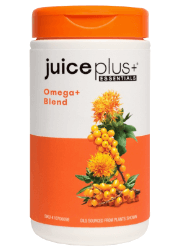 High-quality ingredients
Various health benefits
Third-party tested
Natural & vegan-friendly
Rating: ⭐⭐⭐⭐⭐
👉 CLICK HERE for the BEST OFFER! 👈
This offer is only available from us and is only valid until 27. September 2023
About The Brand
Juice Plus, a popular brand in the diet market, offers superfood blends that claim to provide the nutritional benefits of fruits and vegetables. However, its connection to weight loss is not well-established. To provide you with detailed information, we have analyzed the ingredients, potential side effects, clinical research, and user feedback.
If you struggle to include enough fruits and vegetables in your diet, Juice Plus offers a convenient supplement with over 40 fruits, vegetables, and grains in chewable or capsule form. Discover if Juice Plus lives up to its claims in our comprehensive review.
Does It Work In Practice?
The Juice Plus website claims that their products have been subjected to clinical trials conducted by renowned universities and research facilities worldwide. In fact, researchers at leading hospitals and universities have conducted forty-one clinical studies on Juice Plus.
According to the brand, these studies have revealed numerous positive effects of incorporating Juice Plus capsules into your regular diet, including immune health, heart health, and DNA support. A comprehensive list of completed studies can be found on the Juice Plus website, offering potential evidence of the effectiveness of Juice Plus.
Juice Plus Customer Reviews
Juice Plus reviews from real users and health professionals provide valuable insights into the potential benefits of this supplement. Here are a few testimonials gathered from the Juice Plus website. These testimonials highlight the experiences and perceived benefits of individuals who have incorporated Juice Plus into their lifestyle. Remember that individual results may vary, and it's always important to consult with your healthcare professional before starting any dietary supplement.
Juice Plus has become an essential part of my practice. I believe it provides valuable nutrients that are often lacking in our diets, and my patients have reported positive changes in their health markers.

Oliver Miner
I started taking Juice Plus capsules a few months ago, and I have noticed a boost in my immune system. I haven't had a cold since I started, and my overall health feels more balanced.
11
Juice Plus Health Benefits
Juice Plus claims to offer a range of health benefits. Here are some of the advantages worth exploring:
Promotes a Healthy Immune System: Drinking Juice Plus has been associated with fewer sick days, according to a study. In randomized control trials, health care professionals who consumed Juice Plus experienced a 20% reduction in common cold symptoms. However, further research is needed to determine its effectiveness in reducing the severity and frequency of colds.

Heart Health: Regular consumption of Juice Plus supplements is said to have positive effects on heart health. Research suggests that daily intake of fruit and juice powder concentrates can mitigate the immediate negative impact of high-fat meals.

Helps Maintain Healthy Lung Function: Studies have indicated that Juice Plus may benefit the health of smokers by reducing their cardiovascular risk factors.

Aids in the Maintenance of Skin and Dental Health: Research has shown that consuming a fruit and vegetable concentrate, like Juice Plus, can improve skin hydration, density, and thickness.
Exploring the potential health benefits of Juice Plus can help you determine if it aligns with your wellness goals.
Juice Plus Intake
To ensure optimal intake of Juice Plus, the brand recommends taking two fruit capsules, two vegetable capsules, two berry blend capsules, and two omega blend capsules per day. It is best to consume them with a large glass of water and alongside a meal.
Therefore, the recommended dosage is two capsules from each blend per day. In addition to capsules, Juice Plus offers shakes and bars available in various flavors like French vanilla and Dutch chocolate. To enjoy these, simply shake or blend one serving with one cup of water or incorporate it into your favorite smoothie.
Are There Any Effective Alternatives To Juice Plus?
If you're considering alternatives to Juice Plus, two notable brands worth exploring are Texas Superfood and Balance of Nature. Texas Superfood offers a range of products made from whole, raw, and vine-ripened fruits and vegetables, aiming to provide essential nutrients in a convenient form. Their focus on quality sourcing and commitment to preserving the integrity of natural ingredients make them a compelling option.
On the other hand, Balance of Nature offers whole food supplements that emphasize the use of real fruits and vegetables, carefully dried and ground to retain their nutritional value. With a focus on simplicity and purity, Balance of Nature aims to provide a comprehensive array of essential nutrients. Exploring these alternative brands can provide you with additional options when seeking nutritional support.
​
 
 
 

Test Winner

 
Product

Balance Of Nature

Texas Superfood
Juice Plus
Effects

✓

Well-being


✓

Top ingredients




✓

Third-party tested

✓

More energy


✓

With vitamins
✓

Natural & vegan

✓

Omega blend




✓

Well-being
✓ Vegan-friendly
Side Effects
✓ NO side effects
✓ NO side effects
✓ NO side effects
Content
180 capsules
180 capsules
120 capsules
Dosage
6 capsules
6 capsules
2 capsules
Enough for
30 days
30 days
60 days
Price
89.95 dollars
79.95 dollars
49.99 dollars
Rating
⭐⭐⭐⭐
4/5
⭐⭐⭐⭐
4/5
⭐⭐⭐⭐⭐
5/5
 
Juice Plus Ingredients
Juice Plus dietary supplements contain a variety of fruits and vegetables that are grouped into three blends: fruit blend, vegetable blend, and berry blend. Both the capsules and gummies of Juice Plus are made using the same ingredients, offering the same nutritional value. The individual package labels list key nutrients like vitamins A, C, and E.
It's worth noting that the fruit and vegetable blends contain a relatively high amount of vitamin A, with some providing up to 90% of the Daily Value. Vitamin A is a fat-soluble vitamin that the liver stores. It is important to be cautious about consuming excessive amounts of vitamin A, as it can lead to toxicity. Intakes surpassing 100% of the Daily Value are not recommended. None of the fruit or vegetable blends in Juice Plus contain fiber or have less than one gram of it.
The vegetable blend, also known as the garden blend, includes ingredients such as broccoli, parsley, tomato, carrot, garlic, beet, spinach, cabbage, lemon peel, rice bran, and kale. The fruit blend, known as the orchard blend, consists of apple, peach, cranberry, orange, mango, lemon peel, acerola cherry, pineapple, prune, date, and beet. Acerola cherries, being rich in ascorbic acid (Vitamin C), are beneficial for healthy skin, immune function, and overall health.
The berry blend, also known as the vineyard blend, contains raspberry, bilberry, blueberry, cranberry, pomegranate, concord grape, black currant, blackberry, elderberry, artichoke, and cocoa. Elderberry has been associated with reducing oxidative stress, which occurs when there is an imbalance between free radicals and antioxidants in the body. Obtaining omega-3 fatty acids through diet is crucial as the body cannot produce them naturally.
Possible Side Effects
Before starting any new supplement, it is advisable to consult with your healthcare provider, especially if you are already taking other supplements or medications. This is important because there is a possibility of interactions when multiple supplements or vitamins are taken simultaneously. While fruit and vegetable extracts are commonly believed to have antioxidant effects that can benefit cancer patients, a study suggests otherwise.
Additionally, the absence of fiber in the supplements emphasizes the importance of maintaining a diet that includes whole foods, even if you are taking the supplements. To minimize the risk of undesirable side effects, it is crucial to seek guidance from healthcare professionals before incorporating any supplements into your routine.
Juice Plus Pros & Cons
Pros
NSF-Certified Products: Juice Plus offers NSF-certified products, indicating that they meet strict standards of quality and safety.

Clinically Researched Around the World: The brand has conducted clinical research on their products in collaboration with leading hospitals and universities worldwide, providing some scientific support for their claims.

Charitable Contributions: Juice Plus is involved in giving back to multiple foundations, demonstrating a commitment to social responsibility.
Cons
No Fiber in Fruit or Vegetable Gummies: One drawback is that the fruit and vegetable gummies lack fiber, an important component of a well-rounded diet.

Costly: Juice Plus products can be relatively expensive compared to other dietary supplements available on the market.

Ingredient Transparency: The exact number of ingredients in each Juice Plus product is not readily available, making it difficult for consumers to have a comprehensive understanding of what they are consuming.
FAQ
Can Juice Plus replace the need to consume fruits and vegetables?

Juice Plus is intended to complement, not replace, the consumption of fruits and vegetables. While it provides some nutrients and antioxidants, it lacks the fiber and other beneficial components found in whole foods. It is important to include a variety of fruits and vegetables in your diet for optimal health.
Are there any potential interactions with medications?

Like any dietary supplement, Juice Plus has the potential to interact with certain medications. It is recommended to consult with your healthcare provider before starting Juice Plus or any new supplement, especially if you are taking medications, to ensure there are no potential interactions.
Is Juice Plus suitable for children?

Juice Plus offers specific products for children, such as chewables and gummies. However, it is advisable to consult with a pediatrician before giving any dietary supplement to children to determine if it is appropriate for their specific nutritional needs.
Can Juice Plus help with weight loss?

While Juice Plus may provide some nutritional support, it is not specifically formulated or proven to be a weight loss supplement. To achieve weight loss, it is recommended to focus on a balanced diet, regular physical activity, and overall lifestyle changes.
Is Juice Plus safe for pregnant or breastfeeding women?

Pregnant or breastfeeding women should consult with their healthcare provider before taking any dietary supplement, including Juice Plus. The safety and suitability of such supplements during pregnancy and breastfeeding can vary, and it is important to consider individual circumstances and medical advice.
Conclusion
In conclusion, Juice Plus offers a convenient way to supplement your diet with antioxidants and nutrients. It can be a helpful option if you struggle to consume an adequate amount of fruits and vegetables or find it challenging to incorporate them into your meals. However, it is important to remember that Juice Plus should not replace the consumption of whole fruits and vegetables.
These natural foods provide a wide range of essential nutrients and fiber that are beneficial for overall health. While Juice Plus has conducted impressive research supporting its claims, it is always advisable to prioritize a well-rounded diet consisting of whole, functional foods.
Adding Juice Plus to your routine may offer additional health benefits such as supporting gum health, reducing oxidative stress, and potentially aiding in weight loss. As with any dietary supplement, it is recommended to consult with your healthcare professional before incorporating Juice Plus or any other supplement into your daily regimen.