What Are Nootropics?
Nootropics, also commonly referred to as smart drugs, memory-enhancing drugs, or brain boosters, are supplements or compounds specifically designed to enhance cognitive performance. These substances work by improving various aspects of mental function, such as memory retention, attention span, creativity, and motivation. There are two primary categories of nootropics: natural and synthetic.
Natural nootropics consist of herbal and natural substances, such as Panax quinquefolius and Ginkgo biloba, which not only improve brain function but also promote brain health. Nootropics act as vasodilators, affecting small blood vessels such as arteries and veins within the brain. This, in turn, increases cerebral blood flow while providing necessary nutrients, natural energy, and oxygen to the brain tissue.
In addition to improving blood flow, nootropics also protect the brain against toxins, reduce inflammation, and combat the effects of aging on the brain. Natural nootropics also boost brain function by promoting the growth of new brain cells, which enhances brain activity, memory, thinking, and neuroplasticity. They also improve synaptic transmission by enhancing the release and activity of neurotransmitters.
What Is Qualia Mind?
Qualia Mind is a dietary supplement containing a combination of scientifically-researched ingredients that act as a nootropic. This supplement is designed to improve mental clarity, focus, and memory. The primary objective of Qualia Mind is to enhance and strengthen the human body's ability to increase neurotransmitters, brain-derived neurotrophic factors, and pathways necessary for optimal brain function.
While Qualia Mind works immediately by providing physiological and neurochemical benefits, it also has long-term cognitive advantages that help improve memory, optimize brain function, and maintain brain health as we age. Qualia Mind promotes acetylcholine signaling, brain mitochondrial function, and neuron synaptic formation. It also boosts mental clarity and enhances focus, drive, concentration, and productivity.
Product Feature 
Qualia Mind dietary supplements contain ingredients that are based on extensive scientific research. These ingredients specifically target the neurotransmitters and pathways in the brain that are responsible for enhancing memory, cognition, focus, and concentration. These supplements, produced by Neurohacker Collective, are particularly beneficial for students and individuals who engage in complex tasks that require sustained mental effort, focus, and concentration.
MEGA-DISCOUNT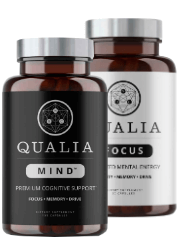 Enhances memory & concentration
Easy intake and dosage
Natural ingredients
No side effects
Rating: ⭐⭐⭐⭐⭐
👉 CLICK HERE for the BEST OFFER! 👈
This offer is only available from us and is only valid until29. September 2023
The Brand
The development of the human brain begins early during gestation and continues throughout an individual's life. During brain development, structural and volumetric changes occur, which are influenced by both environmental and genetic factors. As individuals age, normal cognitive decline occurs, but in cases of dementia, this decline is significantly more severe.
Mild cognitive impairment is a transitional stage between normal cognitive decline and dementia, which is a common disease among the elderly and increases the risk of developing dementia. Mild cognitive impairment is characterized by abnormal memory corresponding to the patient's age. Aside from aging and age-related disorders, cognitive deficits can also occur due to traumatic brain injury.
These deficits can affect various cognitive aspects such as attention, executive functions, awareness of cognitive deficits, and memory. This article provides a comprehensive review of Qualia Mind nootropic dietary supplements, which are designed to boost brain health, mental energy, memory, attention, focus, concentration, and productivity.
The review includes information on the benefits of nootropics, the composition and positive effects of the ingredients, potential side effects, customer reviews, and frequently asked questions. Additionally, the article discusses alternative options to Qualia Mind nootropic dietary brain health supplements.
Is There Another Effective Alternative?
While Qualia Mind is a popular nootropic supplement for brain health and cognitive performance, there are other alternatives available in the market that can provide similar benefits. Here are a few alternatives to consider.
​
 
 
 

Test Winner

 
Product

Nootropics Depot

Mind Lab Pro
Qualia Mind
Effects

✓

Fast & effective




✓ 

Brain boost




✓

Third-party tested

✓

More power


✓

Vegan-friendly
✓

Natural

✓

Brain boost


✓

Natural ingredients
✓ Vegan-friendly
Side Effects
✓ NO side effects
✓ NO side effects
✓ NO side effects
Content
120 capsules
60 capsules
105 capsules
Dosage
2 times daily
2 times daily
1-3 times daily
Enough for
60 days
30 days
Depends on usage
Price
49,99 Dollar
49,00 Dollar
84,15 Dollar

Rating
⭐⭐⭐⭐
4/5
⭐⭐⭐⭐
4/5
⭐⭐⭐⭐⭐
5/5
 
Qualia Mind Customer Reviews
The official website of Neurohacker Collective features reviews of Qualia Mind nootropic supplements from qualified professional doctors. These reviews suggest that the supplements have had positive effects on the health of both the doctors and their patients.
Users reported feeling more alert, happy, energized, and productive after taking the supplements. According to these reviews, Qualia Mind dietary supplements are an effective way to achieve optimal brain function and an overall sense of well-being.
Qualia Mind Ingredients
Qualia Mind nootropic dietary supplements by Neurohacker Collective contain 28 research-backed ingredients that are categorized into different groups including adaptogens, amino acids, antioxidants, lipids, herbal tonics, nootropics, and vitamins. The breakdown of each ingredient is as follows:
Adaptogen: Rhodiola Rosea Root
Amino Acids: Taurine, N-acetyl-L-tyrosine, L-theanine, DL-Phenylalanine, Acetyl-L-carnitine
Antioxidants: Pyrroloquinoline quinone
Lipids: Docosahexenoic acid derived from algae, Phosphatidylserine derived from sunflower lecithin
Herbal Tonics: Coleus Forskohlii Root extract or 20% Forskolin root extract, Artichoke stem and leaf extract
Nootropics: Coffeeberry or caffeine, Huperzia Serrata leaf extract or 1% Huperzine A, Uridine Monophosphate, Celastrus paniculatus seed extract, Cognizin Citicoline, Theobromine, Ginkgo Biloba leaf extract with 24% glycosides, Mucuna pruriens seed, Alpha-glycerophosphocholine, Bacopa monnieri leaf extract
Vitamins: Vitamin B6 or pyridoxal-5-phosphate, Vitamin B3 or niacinamide, Vitamin D3 or cholecalciferol, Vitamin C or ascorbic acid, Vitamin B12 or methylcobalamin, Vitamin B1 or thiamine, Vitamin B5 or calcium pantothenate.
Benefits Of the Ingredients
Bacopa monnieri, an ingredient in Qualia Mind dietary supplements, has several benefits supported by scientific evidence. These include supporting vascular function, promoting a calm mood, providing neuroprotection, enhancing brain function and cognitive performance, promoting healthy stress management, and improving antioxidant defenses.
Cognizin Citicoline, another ingredient in Qualia Mind, supports recall, brain energy, attention, and focus. It acts as a choline donor, which is important for brain health, cognitive performance, mental energy, focus, and attention. It also helps with the synthesis, release, and neurotransmission of neurotransmitters in the brain.
Docosahexaenoic Acid, an omega-3 fatty acid found in Qualia Mind, is present in the human brain and supports the structure of the neuronal cell membrane as well as cell signaling. It is more concentrated in the grey matter and cerebral cortex of the brain and supports healthy vision and brain health.
Alpha-Glycerophosphocholine, a phospholipid containing choline, augments the choline pool in the brain and body. It increases the levels of choline in the brain, which supports the production and neurotransmission of acetylcholine. Benefits of this ingredient include improved exercise performance and optimal cognitive function.
Coffeeberry, derived from organic coffee fruits, is used in Qualia Mind instead of pure caffeine. This ingredient supports mood and exercise performance, and enhances overall cognitive function.
Intake & Dosage
To consume Qualia Mind dietary supplements, take 7 vegetarian capsules in the morning before eating anything. It is recommended to take these capsules on an empty stomach, but they can also be taken with food or a snack later in the day, based on personal preference.
How Does The Preparation Work?
Qualia Mind dietary supplements work by enhancing cognitive functions, reducing mental fatigue, and promoting mental health. They counteract cognitive decline and help maintain optimal cognition and cognitive ability. The cognitive benefits of Qualia Mind include improvement in mental stamina, cognitive enhancement, and improvement in working memory. Qualia Mind is considered one of the best brain supplements for improving cognitive function.
Does Qualia Mind Really Work?
Qualia Mind dietary supplements are designed to enhance cognitive function and improve brain health by targeting both the central and peripheral nervous systems. The official website of the brand features numerous reviews from both general users and medical professionals.
Medical professionals have praised Qualia Mind dietary supplements for their ability to enhance brain health and function. Doctors have reported feeling more alert, happy, energized, and productive after taking these supplements. General users have also reported experiencing a better mood and improved mental focus after taking the supplements.
Possible Side Effects
Although the ingredients in Qualia Mind dietary supplements by Neurohacker Collective are generally safe and effective, they can cause side effects in individuals who are advised against using them. Potential side effects of these supplements may include cramping, insomnia, headache, diarrhea, skin irritation, muscle weakness, and hypotension.
In addition, some individuals may feel restless after taking the supplements. Certain chemicals present in Qualia Mind dietary supplements should be avoided by individuals with specific conditions, including those taking SSRIs, MAO inhibitors, or other psychiatric medications.
Individuals with neurologic disorders or psychiatric conditions, heart conditions, cancer, high blood pressure, endocrine disorders, and phenylketonuria, as well as those on immunosuppressive therapy, are also advised against taking these supplements. Children under the age of 18 and pregnant or lactating women should also avoid these supplements.
FAQ
What is Qualia Mind?

Qualia Mind is a nootropic dietary supplement that is designed to improve cognitive performance, memory, focus, attention, and brain health. It is manufactured by Neurohacker Collective and contains a blend of 28 scientifically researched ingredients.
How long does it take to feel the effects of Qualia Mind?

The effects of Qualia Mind may vary from person to person, but most people start to notice the effects within 20-30 minutes of taking the supplement.
Can Qualia Mind be taken with food?

Qualia Mind is recommended to be taken on an empty stomach, first thing in the morning. However, it can also be taken with food or a snack later in the day, if preferred.
Is Qualia Mind safe to use?

Qualia Mind dietary supplements are generally considered safe when taken as recommended. However, certain individuals should avoid using these supplements due to potential interactions or side effects. These include individuals with certain medical conditions or who are taking certain medications.
How long can I take Qualia Mind for?

Qualia Mind dietary supplements can be taken on a regular basis for long-term brain health benefits. However, it is recommended to take occasional breaks from the supplement to avoid developing a tolerance.
Conclusion
Qualia Mind dietary supplements, made by Neurohacker Collective, are formulated to enhance cognitive performance and support brain health. These supplements are intended to improve memory, focus, attention, and alertness, while also promoting overall cognitive function.